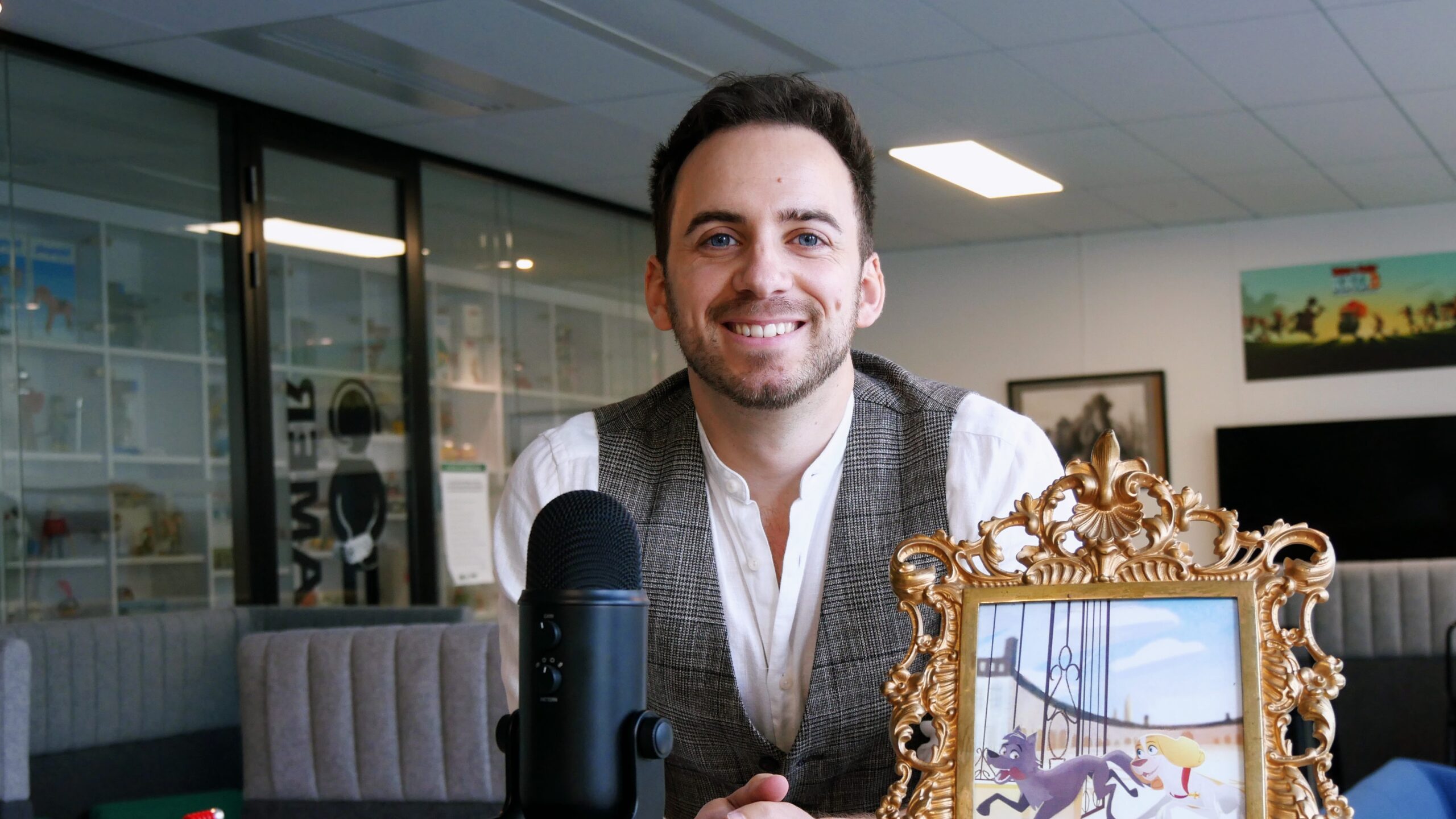 PUBLISHED 8th June 2023
Meet showrunner Teddy Stehly (Versailles Unleashed)
To mark the launch of our new "Behind the Scenes" portrait series, we spoke with Teddy J. STEHLY, creator, showrunner and scriptwriter for the upcoming series Versailles Unleashed, currently in production in our studio.
Teddy, you are a scriptwriter specialized in animation. What do you enjoy about animation?
Freedom. Animation allows us to give free rein to our imagination, to our writing desires that live-action technique doesn't allow, or doesn't fulfill with the same sense of dream and fantasy.
What did you gain from working on some series as a scriptwriter and on others as a writing director?
The writing director oversees the homogenization of the writing and acts as an interface with the broadcasters, who give feedback on everything that is written. He also ensures that the work of the scriptwriters is doable in terms of technique and budget. As for the scriptwriters, their job is purely creative with, of course, a technical part concerning the structure. Thus, it is really not the same parts of the brain that are working. Juggling the two allows us to keep our writing tools and structures sharp, to keep abreast of technical advances, and to stay as close as possible to studios and directors. As scriptwriters, we are often a little disconnected from the production process, unlike coordinators and writing directors.
In addition to your role as a scriptwriter, you have been showrunner for the series Versailles Unleashed for about two years. Could you explain your role in the project?
The profession of showrunner is not yet widespread in France but has existed for many years on the other side of the Atlantic. It appeared on live action series and allowed people who came from writing departments the possibility to guarantee the narrative integrity of a dense universe over the seasons. Ellipse Animation offered me this position on the project Versailles Unleashed because it was an original creation, with no prior reference. My job as showrunner therefore mainly involves embodying this array of references and setting an artistic course.
What are the implications of working on an original concept for you? How does it differ from an adaptation like the The Fox-Badger Family series (Ellipse Animation) which you worked on previously?
Whether as a scriptwriter or as a writing director, I see adaptation work as a form of accompaniment: it's about putting your energy and creativity at the service of a – sometimes well-known – universe, to extend it into other futures, while respecting the original author's vision. Understanding the intentions of the creator of the concept and the characters requires a certain degree of empathy. In the case of an original creation, the challenge lies elsewhere: you're starting from a blank page. It's hard to come up with a new idea, because so much has already been done in animation and even in audiovisual media in general. Once you've managed to come up with something different, something interesting to talk about, the next step is the canvassing: finding a producer and broadcasters who might be interested in the topic. It's an obstacle course.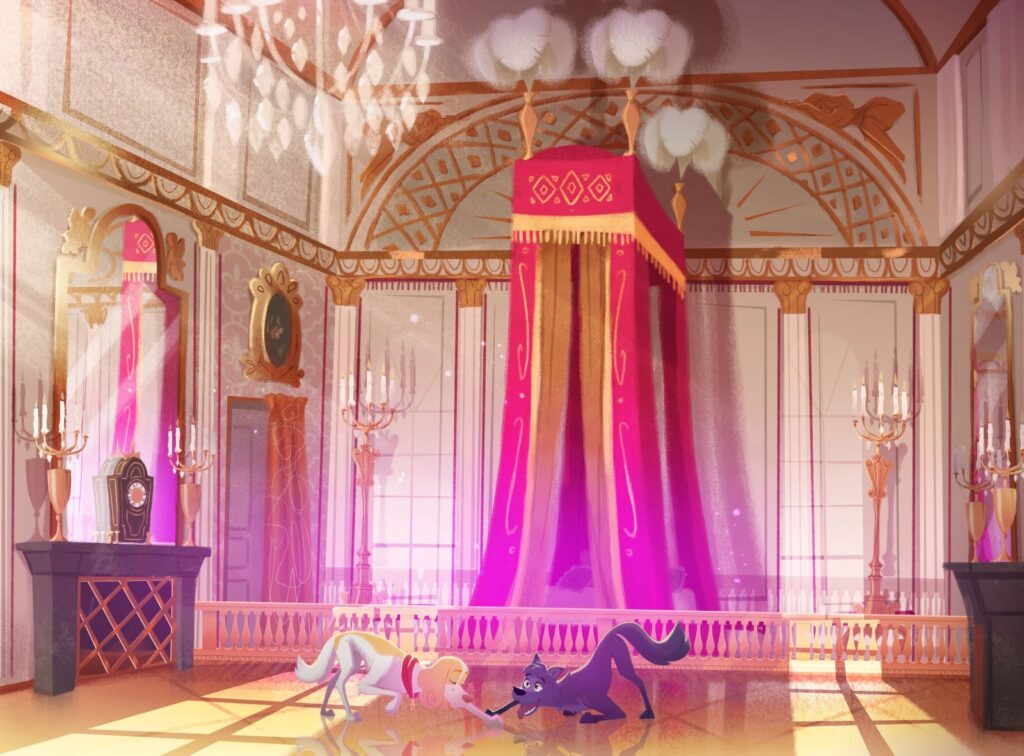 How did you come up with the idea of Versailles Unleashed?
I studied cinema at the 3IS School near Versailles, and spent a lot of time in the castle. One day, I discovered that there were animals everywhere in the castle during the reign of Louis XIV. While researching it, I thought it would be interesting to tell the story of Versailles from the point of view of these animals.
Is this the reason why you chose a dog and a wolf as protagonists?
I quickly settled on a dog because Louis XIV adored them. Versailles was also a place of sharp contrasts between social classes, between nobles and commoners. I wanted to depict this in the series too because, for me, it is indivisible from what Versailles represents. Hence, a second character was naturally created to form this duo of protagonists: Lupin, the wolf who lives in the gardens. He represents nature and wild animals, and is the perfect contrast with Louis XIV's dog, Belfort, who is very… princely.
To what extent does the fact that the series is in 2D rendered CGI impact the art direction and influences you as a scriptwriter and showrunner?
I have always wished for Versailles Unleashed to follow in the footsteps of the great animated classics. Which is why the art direction by the vastly talented Justine Cunha evokes a very nostalgic 2D. 3D tools allow us to achieve this rendering in a series economy. Thanks to these, we do not need to redraw each character frame by frame, and we can reconstitute Versailles' dreadfully complicated sets. A certain number of constraints arise from this art direction and this technical choice, which influences the writing process and the work of the director Philippe Vidal – notably in terms of camera movements. As much in the visuals as in the writing, I wanted to recapture the nostalgia of the animated classics with their characteristic grammar: gentleness and time for contemplation. We've got some really beautiful sets to enjoy, and a truly vast palette of emotions. This is a series that dares to make people cry and feel a little scared. Of course, there's adventure and comedy, but above all there's a richness of emotions that leans towards the narrative quality of feature films, unlike what I used to work on up until now.
Do you identify more with Belfort or Lupin?
Haha! The big question. Both. I think I am a bit of both, owing to my family history. I come from a typical French – rather bourgeois – family from the town of Belfort, on my father's side. On my mother's side, I'm from a gypsy family. I think this project also tells the story of this family contrast. I drew on both to build different characters, but I recognize myself as much in Belfort as in Lupin.
Synopsis : Versailles Unleashed is a story of a unique friendship between two extraordinary animals at the court of Versailles. Belfort is a young spaniel and King Louis XIV's favorite dog. Lupin is his friend, a wolf who harkens from the gardens. At first glance, they are totally different. But neither they can stand the rules dictated by court etiquette which would like to prohibit them from being friends, exploring the palace and the groves, and helping those who need it. Dogs, cats, cavalry horses, exotic birds, mice, or even the elephant of the world's first menagerie… Animals abound at Versailles! And their little problems are not lacking! Because the worries of the human world create an unsuspected mess in the lives of our animal friends…
Do not panic! Belfort and Lupin come to the aid of the animal world of Versailles!
If you want to know more about Versailles Unleashed, visit our dedicated page! And follow us on our Instagram @ellipseanimation for more original content!